The inside Story of RPO in Singapore
The inside Story of RPO in Singapore

While 2019 has been a year of uncertainty for countries around the globe, Southeast Asia remains a region that is ready to rally. According to Asean's latest Investing in Asean report, a young population, burgeoning middle class and rapid urbanisation has led the region to remain one of the fastest growing in the world, with its economic growth continuing to average 5.4 per cent. This optimism is also reflected in the region's adoption of business models that drive cost quality, efficiency, service, and scalability benefits. Recruitment process outsourcing (RPO), is one such model.
According to a recent report by Transparency Market Research, the RPO market in Southeast Asia is expected to be worth approximately US$154.7 million by the end of 2020, up from US$45.6 million in 2013. While other Asian countries are quickly catching up to what is status quo in countries such as The U.K., U.S. and Australia, Singapore leads the brigade as one of the most-developed landscapes for RPO in the region. Having gained much of its elevation in this sphere through its time as a regional hub for MNC's, the island nation still faces educational challenges but may be best placed to foster true understanding of RPO and its benefits in the region.
Covering Educational Bases
According to research by Everest Group, Singapore is and has been one of the biggest decision-making hubs for global MNCs looking to expand their RPO coverage in the APAC region. "This is evident in the presence of both first and second generation RPO users in the region", says Lakshmi Murlidharan, Sales Director for Hays Talent Solutions, SEA. "Singapore is not new to RPO, particularly within industries like banking & finance, IT, pharmaceuticals and healthcare. But at the same time, expanding start-ups or traditionally local companies like locally headquartered banks are still not very open to this model." This conservative attitude can be pinned down to a prevailing lack of education when it comes to understanding the benefits of a full-fledged enterprise RPO solution – particularly in contrast to recruiter on-site or recruiter on-demand services.
This results in many organisations seeking RPO solutions for specific projects or when they need help filling vacancies in a short period of time. "This 'quick-fix' approach can hold organisations back from exploring or understanding RPO in terms of improving processes and the tangible value add of outsourcing and evolving with their RPO provider," shares Lakshmi. The same outlook is the reason why confusion remains around the subject of staff augmentation vs RPO, where RPO refers to outsourcing the end-to-end recruitment process of an entire talent acquisition function (or a defined part of it), as compared to staff augmentation which is the provision of a recruiter on-site, with no commitment on service delivery or headcount.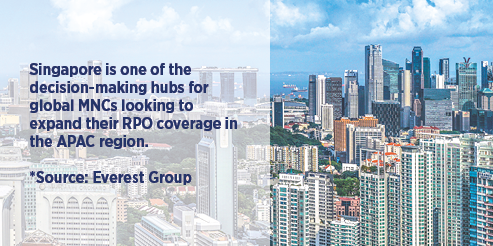 As Lakshmi illustrates, "Organisations look at value and ROI – so when they evaluate the difference between RPO and a recruiter on-site, the most important perspective is cost. If they see an RPO solution as simply adding a recruiter to their count then yes, it is not a compelling trade-off. The true value of RPO lies in taking 50-100 hires off an organisation's hands and providing them with end-to-end solutions."
A Growing, Complex Market
Everest Group also reported a few other challenges affecting the growth of Singapore's RPO market, such as the relatively small size of its RPO market, owing to its comparatively low opportunity size amongst APAC countries. "Singapore is relatively small as a country, which also translates into a smaller candidate pool. This has led to many enterprise-level RPO service requests being based in other, bigger SEA countries," Lakshmi explains.
Similarly, Everest Group reports that while Singapore is the decision-making hub in APAC, most of its RPO activity is multi-country in nature. This is most visible with first gen RPO users, such as international banks who have been using RPO for a long time and deal in multiple bids and recurring contracts. "Such organisations will have experimented with different RPO models and will have an existing network of partners and service providers around the globe. Even if the impact is regional, the decision to move ahead with a particular RPO model or partner will most likely be taken at the company's headquarters abroad." This has made fostering and nurturing strong business relationships an imperative feature for any successful service provider in the country.
Everest Group also noted that RPO buyers in the Singapore market are demanding augmentation tools alongside basic ATS (applicant tracking software) services that RPO providers are bound to provide. "I have often encountered clients asking about AI and chat bot capabilities in addition to our ATS. But there are many who have also never encountered ATS before, such as local start-ups. This is a divide that needs to be bridged quickly, as the government's push for digitalisation is unlikely to slow," shares Lakshmi. In addition to this, a more tech based RPO solution would also be more expensive for organisations and would make most commercial sense for those that require up to 200-500 hires.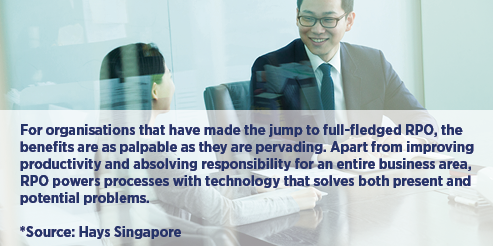 Uncovering the True Value of RPO
For organisations that have made the jump to full-fledged RPO, the benefits are as palpable as they are pervading. Apart from improving productivity and absolving responsibility for an entire business area, RPO powers processes with technology that solves both present and potential problems. "An ATS has the ability to track a candidate's lifecycle in real time and connect disparate sourcing channels into one central database. This can help organisations develop talent pools for themselves and pipelines for their future requirements. Depending on the business need – be it engagement or sourcing and screening – there are different tools that we can use to develop an engagement or sourcing strategy."
A lesser known but unique facet of RPO solutions is that of strategic support in terms of employer branding. "Every organisation hiring top talent has strategic positioning in the market that tells candidates what's in it for them and what benefits they can expect. True RPO partners work with organisations to develop this strategy. A surprising number of organisations, particularly new ones, are yet to uncover the value of telling their story right," says Lakshmi.
One of the biggest advantages, however, is the building of a sustainable model or a predictable; hiring environment that can be accurately forecasted. "Imagine a talent acquisition head using our RPO solution for 50 hires – he will be able to predict closing these 50 hires, have a pipeline of resumes, and know which channels to approach for which roles, and even which markets and competitors he can tap into," Lakshmi reveals. The true value of an RPO provider then, is in its strategic advisory to a business. And this is precisely why it is important for the provider to have substantial knowledge and presence in a number of markets. "Any knowledge of the market and statistics around it has to be real time and true. This is not possible without the right technology and the right experts on board. We should be influencing trends rather than just reactively telling our clients how to deal with them – this is what makes us trusted advisors."
Overall, the RPO landscape in Singapore is better than it has ever been, Lakshmi believes. "The true value of RPO lies in its end-to-end solutions and it is imperative that RPO providers like us stay true to the expertise and value we can provide. People are also increasingly understanding that real RPO players are investing and ready to grow in this market, which will significantly contribute to the sector's growth. The current RPO market in Singapore is better than ever before and its future growth remains extremely positive."
If you would like to discuss this report in more depth or you wish to discuss your recruitment needs, please email Lakshmi Murlidharan at Lakshmi.Murlidharan@hays.com.sg
The inside story in Singapore promo block
The Inside Story in Singapore