The Inside Story of Sales in Singapore
The Inside Story of Sales in Singapore

As firms across Singapore look upon the next 12 months with much optimism about heightened business growth, there has been a corresponding bustle of hiring activity for talent who can spur business expansion. With seven in ten organisations predicting a continuation of greater business activity in 2019, nearly two in five of them (38 per cent) are foreseeing an augmentation of their workforce in the coming year, according to the recent Hays Salary Guide. This has resulted in sales and business development personnel being at the forefront of most expansion plans.
Be that as it may, as adept sales professionals become increasingly in demand, they are not immune to the effects of AI and automation. According to a Forrester report entitled 'Death of a (B2B) Salesman', in the United States alone, 1 million sales reps, or one in five of the 4.5 million B2B sales professionals in the country, will go jobless to advanced commerce technology by 2020.
Closer to home, the Worker 4.0 movement has been a hot topic in Singapore in response to the ever-disruptive technology derived from the ever-pervasive 4th Industrial Revolution. Much has been done to prepare Singapore's workforce for the future world of work, including enhanced collaborations between training providers and employers to upskill or reskill staff through workplace training and development. In addition, Singaporeans are also urged to take it upon themselves to utilise their SkillsFuture resources available to them to develop their skillsets. In 2018 alone, 431,000 Singaporeans benefitted from the funding and support of the SkillsFuture Credit scheme. On top of that, 465,000 Singaporeans and 12,000 enterprises have benefitted from training subsidies.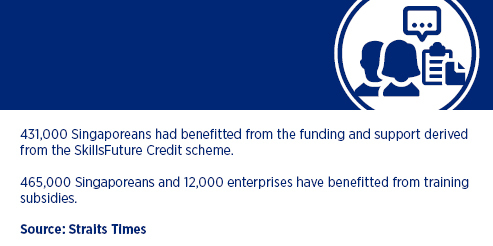 EMPHASIS ON TRAINING AND ADULT EDUCATION IN SINGAPORE IS LEADING TO A FLOURISHING SECTOR THAT NEEDS TO AUGMENT ITS SALES TEAMS
With much emphasis on continuous learning, the training and adult education sector has been flourishing. According to a Straits Times report, "As more sectors transform themselves and seek workers with relevant skills, the training and adult education sector here – which plays a crucial role in building up a skilled workforce – has to upgrade itself too." As it stands, there are 6,000 adult educators and curriculum developers in Singapore.
Driving the growth of this sector are sales personnel, including course consultants, business development managers and directors, and sales executives with a strong track record within the industry, who are also extremely coveted candidates. Hiring managers on the lookout for skilled sales persons are keeping their eyes peeled for candidates with a strong sales record, and an extensive network within education to boot. Furthermore, there is a growing trend of business-to-business transactions in the education space across Asia, and regional experience is required of sales persons to aid in the growth of market share for education providers headquartered in Singapore.
In addition, as the education sector undergoes rapid digital transformation, sales personnel in the education industry will have to adapt and shift from traditional sales to a more digital-centric landscape which encompasses software and online sales. While training courses and educational content will remain the core product, sales professionals must also understand the software behind online education platforms. However, that is not to say employers are doing away with the timeless traits of an effective sales person: a hunter personality, great relationship building skills, and mastery of the entire sales cycle.
DIGITAL TRANSFORMATION PERMEATES ACROSS INDUSTRIES ALONGSIDE THE ELEVATION OF SINGAPORE'S STATUS AS ASIA'S TECH CAPITAL
On the topic of digitalisation and technology, Singapore's status as Asia's Technology Capital is elevating. The EDB reports, "Today, 80 of the top 100 tech firms in the world have a presence in Singapore, reinforcing its status as a major East-West trading center and the gateway to the lucrative Asian marketplace." Tech firms across the board in the city state have been in a race to augment their teams, with sales professionals at the forefront of their workforce.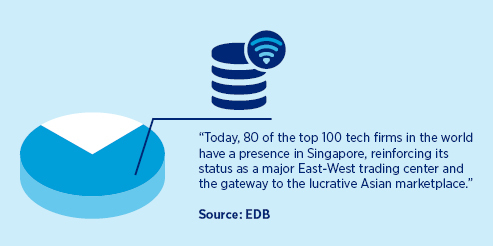 However, sales in the tech space is no mean feat, especially within tech solutioning. It takes niche skills to be able to firstly put oneself into the client's' shoes to solve their business problems. Tech sales professionals will need to possess the acute business acumen that enables them to creatively provide bespoke solutions while positioning the company they are presenting as a unique and unrivalled contender.
Ideal candidates for tech sales would not only need to have a strong understanding of the latest IT solutions in the market, but they would also need a strong background in consultancy and communicate their expertise with flair. In addition, they will need strong stakeholder management skills, especially internally, as they need to be able to liaise with product/operations teams and engineers to create customised products for clients.
IN A CANDIDATE-SHORT MARKET, MANY CAN TAKE A LEAF OUT THE BOOKS OF TECH EMPLOYERS
Due to the shortage of talent in highly niche areas, employers could stand to learn from the talent attraction and retention strategies of big tech companies and promote their corporate culture through deft employer branding which usually stems from a "work hard, play hard" attitude. Most tech companies looking to provide competitive offer packages usually have in place a clear commission structure that may include up to six months of bonus.
On the other hand, while employers in the education industry are not known for the 'new age' benefits offerings typical of tech firms, it is not to say that working with them has no merit. While education employers lean towards the more traditional methods of attracting and retaining candidates, many are true to their resolve of developing people and are often willing to provide educational support for staff and children.
All in all, sales talent in Singapore will remain highly sought after over the next 12 months, with the technology and education being the hottest industries to be part of. Talent looking to thrive in these areas must stay on top of how Industry 4.0 affects their roles, or risk being left behind.
If you would like to discuss this report in more depth or you wish to discuss your job search or recruitment needs, please email Patrick Yap at Patrick.Yap@hays.com.sg.
The inside story in Singapore promo block
The Inside Story in Singapore