The Inside Story of Supply Chain in Singapore
The Inside Story of Supply Chain in Singapore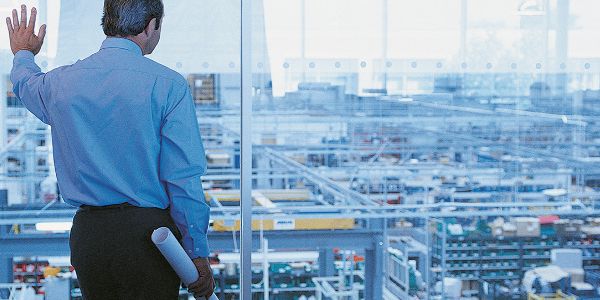 2019 has proved to be a grim year for global economies, with impacts of the US-China trade war resulting in supply chain disruptions and consequent slowdowns of even the most robust economies. Singapore, known for its world-class geographical connectivity and ranked as Asia's top logistics hub for ten years in a row by the World Bank, has unsurprisingly taken a significant hit. According to a business optimism study by the Singapore Commercial Credit Bureau (SCCB), local business confidence has dropped to a near two-year low for the final quarter of 2019. In the words of SCCB's Chief Executive Officer, Audrey Chia, "Most sectors are experiencing a downturn for the final quarter of 2019, most noticeably the manufacturing and wholesale trade sectors. This is largely due to trade tensions affecting international supply chains, shrinking imports from China and a generally muted global outlook. This has led to negative spill over effects on the vulnerable trade-related sectors."
However, the same report also mentioned that while manufacturing was one of the most downbeat sectors, it still had employment as its sole positive indicator. This is reflected by the recruitment climate that despite facing changes, has remained relatively stable. Much like China and Hong Kong SAR, Singapore is also seeing a rising demand for forecasting and demand planning roles, digital knowledge, and soft skills, alongside a generally job-short market that has left candidates without much bargaining power for remuneration.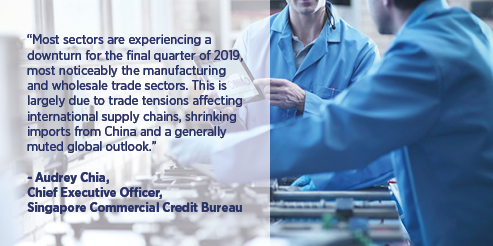 Labour Market Overview: Dwindling budgets lead to rise in contracting
In his commentary on the trade war and its impacts on Singapore, Prime Minister Lee Hsien Loong said, "(The trade war) augurs a more troubled future for us. Our growth will be affected. Singapore companies that export to China, and those that export to the U.S. from factories in China, will be hit. Some hope that manufacturers that decide not to set up in China may come to Singapore. A few may come, but most will not, given the nature of the industries and their primary considerations of cost and proximity to markets. For example, clothing manufacturers will likely move their factories to Vietnam or Bangladesh; electronics to Mexico; furniture manufacturers to the Philippines."
Such movements are being seen in Singapore as well, says Belinder Kaur, Team Manager Supply Chain & Logistics at Hays Singapore. "While hiring in supply chain hiring does not seem to have been impacted much, we have seen manufacturing and engineering companies shifting out of Singapore." Angie Ng, Associate Consultant for Procurement in Supply Chain at Hays Singapore concurs, "Companies with plants in Singapore want to shift back to their own country or to locations like Africa, Europe, Vietnam, or Malaysia where they can find more affordable alternatives and labour."
The primary result of this, coupled with the slowing economy, is a rise in contracting roles in the supply chain market. This is partly due to project related work but mostly due to lack of budget to cover permanent headcount. As Angie explains, "A lot of roles, for example, handle parts of projects that may be only a yearlong so the headcount may not be needed after. But there is also a cost element we are seeing where there seems to be less allowance for permanent headcount in Supply Chain globally. Hiring permanent staff would include benefits, CPF contributions and other such considerations which may not be necessary with contractors." There are other benefits too, as Belinder points out, "Employers also seem to prefer contractors as it gives them a trial period to evaluate if this is the right candidate they want to hire for a permanent role."
Skills in Demand: Demand planning, digital knowledge, soft skills and multitasking needed to augment business transformation
Demand planning roles are a vital part of the supply chain, but appropriate candidates have historically been hard to fill owing to the in-depth industry knowledge and cross functional working required for their success. The forecasting required from these roles and the impact it has on production has brought this function to the forefront for supply chain companies in Singapore. For logistics, Singapore's most important role to play in the global supply chain, there has been an ongoing demand for order management roles.
The corresponding skill sets most in demand are direct industry experience, along with soft skills and IT knowledge which are a must-have. Knowledge of SAP, a crucial software tool in demand, supply, and production planning, has become almost a necessity for hopeful candidates. For procurement functions, there has also been a push for digital and IT knowledge in the face of increasing digital transformation. "This is especially so in Singapore, where we are pumping a lot of money into infrastructure – that's why IT is in demand. To clarify, this means procurement candidates who specialise in IT equipment, software, hardware, or even infrastructure; so, the full-fledged IT category is what we are talking about here," says Angie. Candidates with indirect experience dealing with IT equipment are also highly desired.
The need for soft skills is also being repeatedly emphasised in the market. Ideal candidates would have a good hold on the whole gamut of vendor facing skills including negotiating and relationship management. For mid-level candidates, displaying good communication from the interview stage could prove advantageous, as would the ability to multitask and exhibit versatility. The corresponding mid-junior-level roles in demand are Demand Planner, Order Management Executive, Vendor Manager, Category Manager, Procurement Specialists, and Senior Buyers.
For more senior level candidates, the ability to innovate, introduce new initiatives or previous experience in upgrading or enhancing processes is highly sought after, alongside strong leadership and stakeholder management skills. As more offices move out or change location to adapt to restructuring, frequent travelling will likely be required as well. Senior roles currently in demand include Supply Chain Manager and Supply Chain Project Manager, owing to the current need for optimising supply chains.
Candidates encouraged to upskill in IT and network amidst job-short market
For procurement roles within IT and tech companies, the benefits for employees often involve free meals, free gym memberships, flexible hours and even free massages. Many are reported to offer significant cash benefits as well. For supply chain, however, candidate attraction strategies revolve around selling a company's strategic direction, ideas and goals. This may be due to a job-short market, precipitated by companies moving overseas and consequently leaving behind more candidates in the market. The result is candidates losing significant bargaining power when it comes to remuneration or benefits, as Belinder explains, "I have seen at least two cases where candidates have accepted offers of up to 3000$ less than their previous drawn salaries, simply because they are out of jobs." However, candidates can still expect at least 10-15 per cent increases in pay when looking for new roles but must be prepared to justify their worth.
To assist in their job search and better justify their pay raises, candidates could benefit from self-upgrading by taking courses covering the latest software, logistics and procurement management. Apart from SAP, Lean Six Sigma, an operational excellence methodology, is also becoming an increasingly popular choice for upskilling. Networking is another crucial aspect that could help candidates with their next big break in a difficult market. This is especially the case for procurement where the talent pool is relatively small. Most candidates know each other and it is consequently easier for them to refer their peers for suitable roles.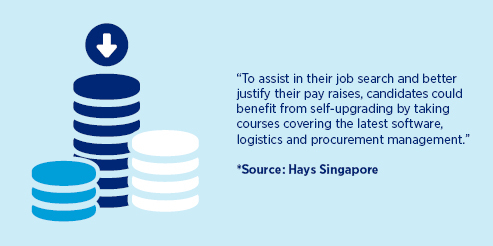 Future Trends: Digital on the rise
While the economy may be slowing, Singapore's position as a regional hub is likely to help build a bounce back. This, along with its efforts towards being a digital nation, may be a beacon of hope for candidates left in the supply chain lurch. Technological advancement is currently a huge trend in the industry, leading to many companies seeking transformation and restructuring to see how they can incorporate more tech into their daily activities. Candidates focusing on upskilling or showcasing their digital skills may find their ideal role yet, albeit without the amount of leverage needed to negotiate their idea pay packages.
If you would like to discuss this report in more depth or you wish to discuss your recruitment needs, please email Belinder Kaur at Belinder.Kaur@hays.com.sg or Angie Ng at Angie.Ng@hays.com.sg
The inside story in Singapore promo block
The inside story in Singapore