Mohamed Hafeel

Vice President & CIO, Japan Regional Services, Asurion, Japan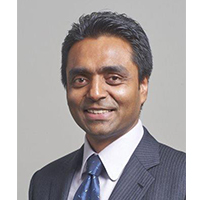 Originally from Sri Lanka, Mr. Mohamed Hafeel has lived in Japan for the past 15 years and is currently working as Vice President & CIO, Japan Regional Services for Asurion, a leading device protection and proactive technical support service. Mohamed didn't have his sights set on becoming CIO in the early days of his career and has travelled a fairly unconventional path to reach where he is today.
Career path
After finishing his studies in Sri Lanka, Mohamed took a job as a crew member on a mega yacht where he ended up in the US. Throughout this journey he travelled more than 40 countries and islands around the world. He purchased his first computer while on board the yacht, and started exploring his passion for electronics. Mohamed had a natural interest in breaking and fixing things, which he developed during his time at school where he had a keen interest in fixing radios, clocks, and cabling and wiring for his family and friends as a hobby. He eventually volunteered his time supporting and maintaining the computer systems on the yacht, and soon after realised he had an opportunity to transform his passion into a career path.
While working abroad on the yacht, at that time based in France, Mohamed married his Japanese wife. They then moved to Japan where he found a job as a Technical Support Consultant. It was a small company, which provided him exposure to various facets and areas for broader learning, personal development and management insight. He also built a computer lab at home where he spent a significant portion of his salary on equipment so he could reproduce computer problems that he needed to fix at work. Being the breadwinner of the family this was much to his wife's dismay.
Fast-paced
Mohamed was always attracted to the challenge of keeping up-to-date with the latest technological trends. "What someone will have learnt in 1995 is no longer relevant. Technology is constantly evolving, and the challenge of keeping up-to-date is what motivates me," he says.
In 2003, he joined a Canadian insurance company as Information Security Consultant. With his thirst for learning, he undertook further studies to gain additional certifications, and educate himself on people management and leadership, which enabled him to continue to build his knowledge and start aspiring to become a CIO. In 2009, he was promoted to Assistant Vice President and Chief Technology Officer, and made responsible for overseeing the execution of major technology innovations, the company's multimillion-dollar datacentre transformation in Japan and its Asia businesses.
In 2011, he was appointed as CIO of the Japan business and promoted to Vice President. In 2013, in addition to his CIO role in Japan, he was also appointed as Chief Information Security Officer (CISO) and Head of Business Continuity of the company's regional operations in Asia, spanning 11 countries.
In 2015, Mohamed joined Asurion as Vice President, CIO and CISO of the Japan region. In this role, which he currently holds, he is responsible for the company's information technology, information security and business continuity functions.
Love for IT
Mohamed is motivated by how technology can help optimise operations in a business. "I'm passionate about helping others solve their technology problems. This aligns with my core DNA. My dad was a maths teacher and he taught me that no one is ever perfect. He told me that if you think you know everything, you stop growing and learning." Mohamed believes in respecting and learning from others. "Teamwork is paramount; if one person can do everything we don't need an organisation."
Technology works around-the-clock and has to be up and running 24/7. Whilst this presents a challenge to work-life balance and some sleepless nights, Mohamed believes CIOs shouldn't have it better than their team; in fact, they need to be there for the team. "Work-life balance is about how I can prioritise my time and make time for my family. For example, if I have to leave home at 5:30am then I try and leave the office earlier to make up for it." His balancing efforts seem to be quite successful as Mohamed enjoys time off on the weekends and dedicates them to cooking different cuisines with his family. He also likes to exercise which he believes gives him valuable time to clear his mind and gain perspective.
Operations
Apart from driving technology strategies and execution, he works closely with product and operations teams, strategising and driving business growth as well as client engagement and strategic relationship development. "It's very important to work hand in hand with operations. With 50 million customers, 20 thousand calls a day and unprecedented amounts of data points that need to be dealt with, as the CIO I need to support the operations team with effective technology so they can meet our customers' needs and achieve operational efficiency."
Opportunities and challenges
Currently Mohamed has eight direct reports and over 300 indirect reports around the world. "People management is a very important aspect of a CIO's role. Who I am today is because my managers were great leaders who showed me how to be a great leader. It's a give and take and I'm always learning. It's about achieving things together. I rely on others to help grow the business and believe a key pillar of success is teamwork and empowering my people and supporting them to grow." His biggest challenge for the next 12 months is finding the right resources amidst a challenging environment and talent shortages. "It's all about people, we have to have the right people in place to bring the business strategy to life."
Mohamed believes soft skills are just as important as the technical skills in his role. "Technology moves fast and it's the CIO's responsibility to know what the business needs. Business acumen is more important than the technical skills; you need to understand the key business challenges and help solve the problems of tomorrow, not just those of today."
Diversity
He also believes more needs to be done on diversity to bring more women into the IT industry. "Those with differing perspectives offer alternative ways to solving problems which is really important and healthy for a company to grow. There is a lack of senior female leaders in IT around the world and it's a struggle to find female talent. More needs to be done to encourage women into the world of IT."
Advice
One piece of advice Mohamed offers to aspiring CIOs is: "You should not be focused on the top job title from day one. Meet every challenge diligently, putting 100 per cent effort in and striving for perfection in what you do. Keep learning, listening and stay humble."
Explore the DNA of a CIO promo block
Explore the DNA of a CIO
CIO profiles