SINGAPORE'S TOP TEN TALENT TRENDS FOR 2021
HAYS SINGAPORE'S TOP TEN TALENT TRENDS 2022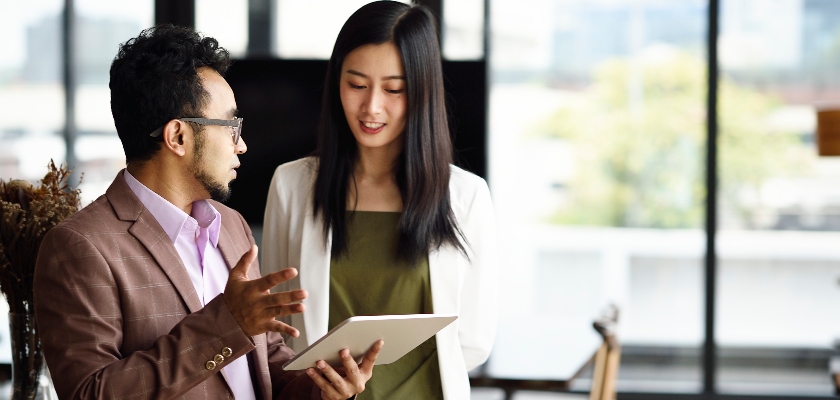 The pandemic has had significant economic, health, and social impacts in Singapore, disrupting businesses and slowing down recruitment activities over the last two years. But with the situation stabilising and restrictions easing, there will be an increase in hiring in the year ahead, primarily in the digital, healthcare, and finance sectors, with a mixture of replacement and new roles.
A key focus for 2022 will be sustainability. With it firmly on the national agenda, businesses are expected to step up efforts to address climate and sustainability challenges in their business strategies. This will increasingly reflect in the growing demand for ESG roles across sectors, both strategic and operational.
Read on for
Hays Singapore's top ten talent trends in 2022
and/or
download
your exclusive
Hays Singapore Top Ten Trends for 2022
infographic available in PDF format for digital or print use
1. Spotlight on sustainability in 2022
Across sectors, the spotlight will be on sustainability. Following the recent conclusion of the Glasgow Climate Pact, Singapore is expected to make a huge push towards sustainability as part of the national agenda. Sustainability initiatives like the Singapore Green Plan 2030, which cuts across infrastructural development, research and innovation, and training programmes have been put in place, sending a strong message to international, public, and private stakeholders. As a result, companies with long-term ESG-centric (Environment, Social, and Governance) strategies as well as robust and transparent sustainability reporting will be in a prime position compared to their competitors in the upcoming years.
2. More ESG roles in Banking and Financial Services
The razor-sharp focus on sustainability in Singapore will prompt a surge in hiring for ESG (Environmental, Social, and Governance) roles across sectors in 2022. The demand has been on the rise across several sustainability infrastructure projects, and leading asset managers and financial companies have reported that their ESG indices and portfolios had performed their non-ESG counterparts since the outbreak of the pandemic. In the year ahead, banks are expected to increase financing and technical assistance to reduce investment risk and catalyse public and private financing for green infrastructure projects, thus creating jobs and bolstering growth. Within the Big Four accounting firms, there will be a noticeable uptick in demand for talent to fill ESG, digital transformation, and financial services advisory roles.
3. Talent Acquisition specialists needed as hiring increases
With Singapore returning to business as usual over the last year and the gradual return to pre-pandemic activity levels, the hiring market will see extensive growth, in part due to the restarting of delayed growth plans and the predicted rise as a regional hub. Consequently, the need to find and retain talent is a top priority for most businesses, which will result in a spike in demand for Talent Acquisition specialists, including Manager/Director level professionals. The latter are expected to be knowledgeable in attrition prevention, diversity and inclusion hiring, as well as global talent acquisition strategies in order to successfully find talent in an increasingly competitive market.
4. Logistics operators to focus on supply chain optimisation
As demand continues to spike for logistics & distribution and 3PL (third-party logistics) operators as a result of the disruptions to the supply chain caused by the pandemic and its continuing fallout, businesses are beginning to recognise the importance of optimising and streamlining their supply chain and logistics operations. Companies will thus be on the hunt for Logistics Solution Managers who are skilled in business development; designing and implementing end-to-end logistics solutions for customers in focused industries; as well as resource management, including manpower, internal assets, and external vendors.
5. Hypergrowth expected in the Technology sector
The Technology sector is set for hypergrowth in the coming year. Start-ups and tech organisations in Singapore have grown extensively despite the pandemic and are expected to continue growing at an accelerated pace with restrictions easing, pushing up the demand for HR Specialists with experience in hiring tech candidates, particularly in the digital payments space. FinTech companies focusing on blockchain and cryptocurrency have also been progressively entering the market and will be hiring aggressively across technical and sales positions.
Within multinational corporations, there will be growing emphasis on Enterprise Resource Planning and Customer Relationship Management, and thus a corresponding demand for talent with expertise in platforms like Salesforce, SAP, and Oracle. Roles like Network Engineering/Network Design, and Site Reliability Engineer will also see a bump in demand, the latter due to rising migration into serverless platforms as well as an increased demand for microservices and Kubernetes tools.
In terms of hiring criteria, employers are coming to expect candidates with automation skillsets, including network automation and Linux automation. Additionally, diversity hiring will be a key focus for tech companies in 2022, with women in tech sitting firmly on the agenda.
6. Consistent demand for Flexible Recruitment
Organisations in Singapore are quickly coming around to recognise the benefits of flexible recruitment. Over the next year, there will be continued high demand for contractors in the Technology space, especially with more FinTech companies setting up operations in Singapore. Demand will be especially high for professionals with experienced in software development and delivering or maintaining critical infrastructure. Candidates with the ability to deliver projects within tight timeframes in a high-pressure environment are especially valued. Employers have also shown a tendency to hire local talent, even if there is a shortage of talent with the niche skillsets they're looking for.
7. Revolution imminent in Life Sciences
Explosive growth is on the horizon for the Life Sciences industry, catalysed by rapid digitalisation, the adoption of artificial intelligence and telehealth, and an influx of investments. The pandemic has accelerated the demand for home testing and Point-of-Care diagnostic equipment, and as a result a growing number of key players have been and are continuing to enter the market. Within the pharmaceutical space, clinical trials are increasingly decentralised and being migrated onto digital platforms, a trend that will fast become a norm in the next few years. Accordingly, Commercial Excellence and Salesforce Excellence roles will experience a surge in demand.
8. Succeed with a customer-centric Marketing approach
The modern customer journey is becoming increasingly complex. As a result, businesses are starting to place a razor-sharp focus on understanding the customer, marketers are expected to know how to map customer journeys and identify engagement touchpoints on and offline. Techniques and skills in UI/UX, content mapping, A/B testing, persona development, and conducting surveys will be critical for marketing talent. Additionally, the use of data and artificial intelligence in marketing has made marketing personalisation more efficient. Employers will be on the lookout for marketing professionals who demonstrate working knowledge on delivering brand messaging and content that is tailored to individual customers.
9. Relationship building is critical to Sales success
With customers becoming increasingly sophisticated, successful selling now hinges on relationship building rather than the direct methods of earlier years. Sales professionals will have to evolve and refine their strategies to land the sale. At the same time, Customer Success is also rising in prominence as businesses strive to provide more value to customers post-sale. Moving into 2022, employers will be on the hunt for Key Account Managers with expertise in social selling and who are able to design and execute customer success strategies to grow their revenue and customer base.
10. Priority given to companies with hybrid work models
Over the last year, Singapore has moved in and out of lockdowns with little noticeable impact on ability or quality of work. As such, more organisations are beginning to accept remote work as the norm, some even going the extra mile to adapt their work policies to offer flexible working options permanently. This is in line with the shift in priorities of working professionals that we've observed in the aftermath of the pandemic, who are increasingly showing a preference for companies with such flexible work policies in place.