SINGAPOREANS ARE LOOKING TO UPSKILL FOR THE NEW ERA OF WORK IN THE SECOND HALF OF 2021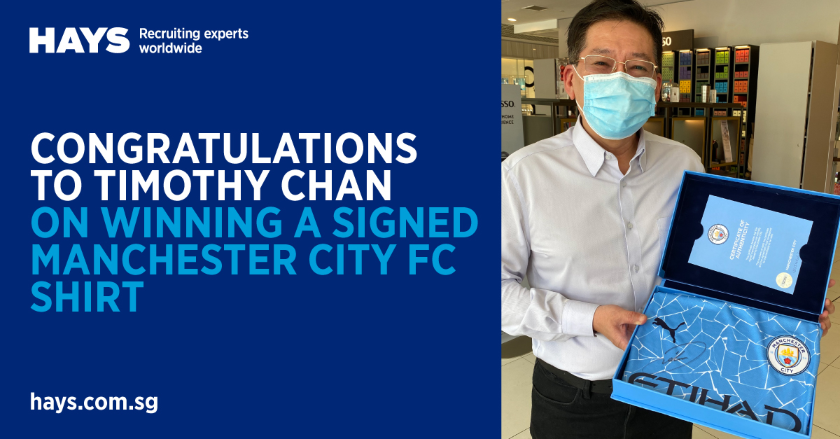 During the early months of the pandemic, it seemed that everybody wanted to take advantage of the extra time on their hands and learn a new skill.
But as the confusion and uncertainty of those early months gives way to an understanding that we are entering a new era of work, this eagerness to learn has not gone away. In fact, as professionals increasingly understand that to thrive in this new world, specific technical and soft skills need to be honed and emphasised, the desire to improve their existing skillsets and upskill in new areas has only grown.
In May 2021, Hays Singapore launched a competition where one lucky winner would win a signed Raheem Sterling shirt who plays for Manchester City, the Official Recruitment Partner of Hays.
To enter the competition, Singaporeans had to tell us what their goal is for the rest of the 2021. The vast majority (27 per cent) from 142 respondents told us their goal is to 'upskill' indicating that Singaporeans are keen to future-proof their employability ensuring their skills and experience expand, either through formal or on-the-job learning or by moving to another organisation where the can gain exposure to new technologies or industries that are growing.
20 per cent of Singaporeans told us their goal is to be promoted by the end of this year. In taking their career to the next level, finding opportunities to grow their skills beyond the day-to-day tasks is an ideal way to give their career a boost and boost the prospects of promotion at any point of time.
For those who no longer feel stimulated by their current job, 18 per cent of competition entrants told us they are looking to change their career by the end of year. Changing careers can prove to be fulfilling and rewarding move, however there are pitfalls to avoid in order to make the transition as smooth as possible. People might feel certain they want to leave their current employment, but a career change is a dramatic, life-changing decision is one they cannot afford to take lightly.
Our competition is the latest campaign we have run with Manchester City, our proud Official Recruitment Partner. The partnership is based on a mutual ambition to attract skilled, expert professionals to build high performance teams, whether it is on the football pitch or in the world of work. Both Hays and Manchester City thrive on the challenge of identifying skilled individuals who offer the right chemistry and capabilities to help a team to succeed.
The winner of the competition Timothy Chan had this to say about his prize. "I'm delighted to win the signed Raheem Sterling shirt. As an avid football fan, winning this shirt has greater significance as it is of course the shirt that Manchester City wore throughout season 2020/2021 in which they were crowned champions of the English Premier League. I would like to take this opportunity to thank Manchester City and of course, Hays Singapore for giving me the opportunity to win this item.
Make sure you follow us on LinkedIn to hear about our future competitions, plus receive industry leading advice and insights on the world of work, to help you succeed in your career.
-ends-

About Hays Singapore
Hays Specialist Recruitment Pte Ltd, Singapore ("Hays Singapore") is one of Singapore's leading recruitment companies in recruiting qualified, professional and skilled people across a wide range of industries and professions.

Hays has been in Singapore for over a decade and boasts a track record of success and growth. We operate across the private and public sector, dealing in permanent, temporary and contracting positions in more than 15 different specialisms, including Accountancy & Finance, Banking & Financial Services, Digital Technology, Engineering, Finance Technology, Human Resources, Information Technology, Legal, Life Sciences, Marketing & Digital, Office Professionals, Procurement, Supply Chain and Sales. Hays Singapore was named the "Best Small Workplace" in Singapore in 2019 and 2018, and was ranked fourth "Best Multinational Workplace" in Asia 2020 by Great Place to Work®.

About Hays

Hays plc (the "Group") is a leading global professional recruiting group. The Group is the expert at recruiting qualified, professional and skilled people worldwide, being the market leader in the UK and Australia and one of the market leaders in Continental Europe, Latin America and Asia. The Group operates across the private and public sectors, dealing in permanent positions, contract roles and temporary assignments. As at 30 June 2020 the Group employed c.10,400 staff operating from 266 offices in 33 countries across 20 specialisms. For the year ended 30 June 2020:

– the Group reported net fees of £996.2 million and operating profit (pre-exceptional items) of £135.0 million;
– the Group placed around 66,000 candidates into permanent jobs and around 235,000 people into temporary roles;
– 17% of Group net fees were generated in Australia & New Zealand, 26% in Germany, 23% in United Kingdom & Ireland and 34% in Rest of World (RoW);
– the temporary placement business represented 59% of net fees and the permanent placement business represented 41% of net fees;
– IT is the Group's largest specialism, with 25% of net fees, while Accountancy & Finance (15%) and Construction & Property (12%), are the next largest
– Hays operates in the following countries: Australia, Austria, Belgium, Brazil, Canada, Chile, China, Colombia, the Czech Republic, Denmark, France, Germany, Hungary, India, Ireland, Italy, Japan, Luxembourg, Malaysia, Mexico, the Netherlands, New Zealand, Poland, Portugal, Romania, Russia, Singapore, Spain, Sweden, Switzerland, UAE, the UK and the USA