2023 Hays Asia Salary Guide Navigating Sustainable Growth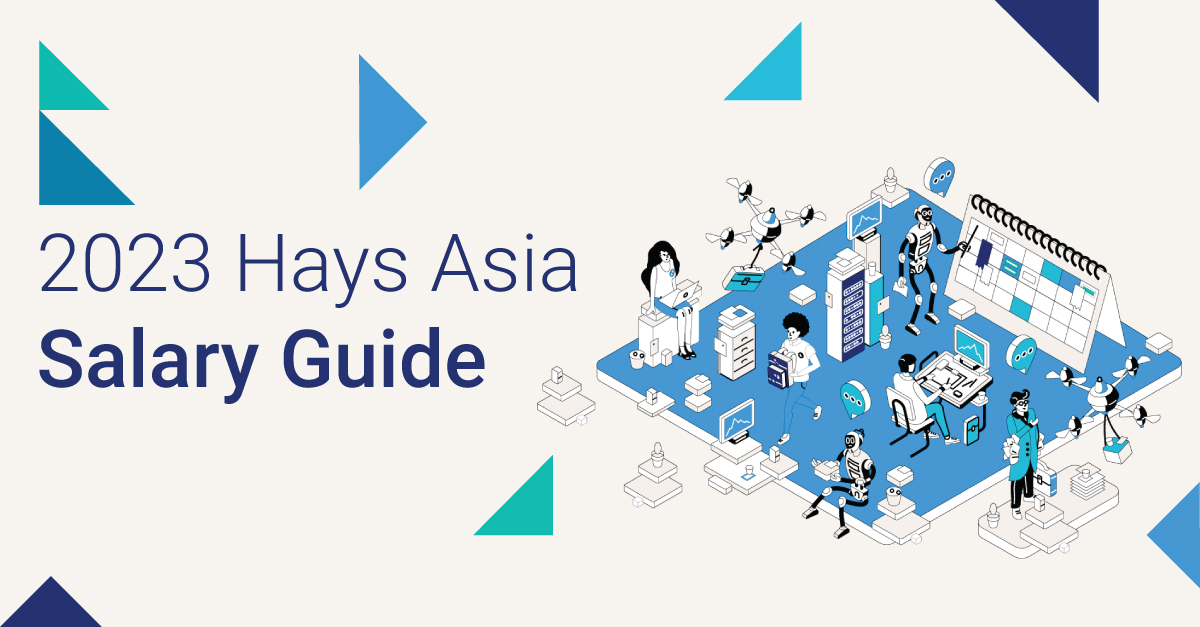 Singapore, 27 April 2023 – Hays, a leading global professional recruiting group is pleased to announce the launch of the 2023 Hays Asia Salary Guide ("the Guide") today, which surveyed 10,191 skilled professionals and 3,630 employers from Singapore, Malaysia, mainland China, Hong Kong SAR, and Japan for insight on how they are navigating the evolving work landscape and recruitment strategies.
"Organisations are preparing themselves to navigate through impending challenges and uncertainty in the year ahead. Although hiring appetite remains high, recruitment activity and jobs growth are expected to slow, which by no means relieves the talent and skills shortage in the region," said Marc Burrage, Managing Director, Hays Asia.
Kirsty Hulston, Regional Director at Hays Singapore expounded on the key benefits of the Guide, which includes valuable insights into the latest recruitment trends, talent motivations, and continuous learning in the job market. "It is essential that businesses stay ahead of these trends to attract, retain, and develop the best talent," said Kirsty.
While employers are keen to hire, there are fewer active jobseekers
The Guide discovered that Singapore staff levels in 2022 have slower growth than anticipated. In 2022, 44.3% of employers in Singapore reported hiring more staff in comparison to the initial projection of 46.7%. However, trends show that employers are still keen to hire as demonstrated in the projected increase of 51% of new hires in 2023. In particular, there is a rising trend for employers in Singapore to hire contract workers for special projects and exceptional circumstances.
Employers are seeking candidates who have specific skills to complete the tasks at hand and to ensure their business continuity.
Salary expectation gap remains across all markets
Employees optimistic about receiving larger salary increases in 2023 will need to manage their expectations. The guide revealed that employees in Singapore are expecting salary increases of 6% and up, while most employers are only planning for increases up to 6%.
Work-life balance and work flexibility are top priorities for talent retention
While salary expectations continue to form a key motivator for employee career decisions, there is a growing segment that values flexibility with working arrangements. Flexible working options have become a stronger priority in all markets, including Singapore where 54.9% of employees cited work flexibility as a top reason for staying at their current employment. Conversely, Singapore saw an increase in employers requiring employees to work permanently on-site.
Strong employer-employee alignment on key skills to prioritise
Employers and employees across the region agreed that hard/technical skills, soft skills and management and leadership training needed to be prioritised. There were differences between markets when drilling down to hard skills, with Singaporean employers prioritising technical and analytical abilities foremost, followed by presentation skills. The lack of time to devote to developing these skills was found to be the biggest obstacle employees faced.
Exclusive Invite to Hays Asia Salary Guide Webinar
Hays Singapore will be sharing exclusive insights that are not available in the report through an invite-only webinar. The session also includes a panel discussion. To take part in the webinar, please contact Hays Singapore marketing team at marketing@hays.com.sg
Click here to download the complete version of the 2023 Hays Asia Salary Guide.
About Hays Singapore
Hays Specialist Recruitment Pte Ltd, Singapore ("Hays Singapore") is one of Singapore's leading recruitment companies in recruiting qualified, professional and skilled people across a wide range of industries and professions.
Hays has been in Singapore for over a decade and boasts a track record of success and growth. We operate across the private and public sector, dealing in permanent and contracting positions in more than 15 different specialisms, including Accountancy & Finance, Banking & Financial Services, Engineering, Human Resources, Legal, Life Sciences, Marketing & Digital, Office Professionals, Procurement, Supply Chain, Sales and Technology. Hays Singapore was named the "Best Small Workplace" in Singapore in 2019 and 2018 and was ranked fourth "Best Multinational Workplace" in Asia 2020 by Great Place to Work.