HAYS LEARNING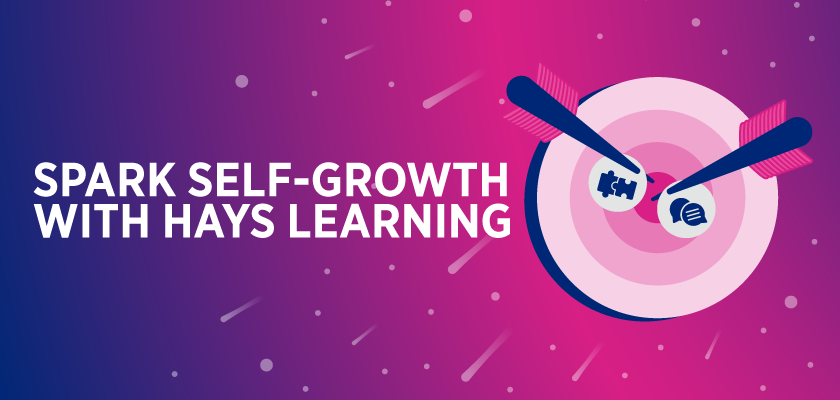 Continuous skills development is crucial to career success. To help you develop and hone your skills, we invite you to sign up to Hays Learning for free access to a range of online learning courses.

Designed with your learning needs and career ambitions in mind, Hays Learning courses make it easy to find training that suits your learning goals, while the flexibility of the online training platform means you'll learn at your own pace at a time that suits you.
How do I get started?
Your skills development journey starts now!
Sign up
to Hays Learning in seconds and become familiar with our easy-to-use free online learning platform. You can start either by accessing one of our recommended online courses below or creating an account to search and explore an extensive range of topics.
Personal Development Courses
Your personal development and growth as an individual are goals that assist your development and wellbeing allowing you to realise your true potential.
Communication Courses
Covering classic business communication etiquette as well as best practices for email, smartphone use, voice and video calls.

About Hays Learning: Free E-learning online classes
Our Hays Learning recommended online courses are ideal if you are looking to develop the key fundamentals required for long-term success in the workplace. But our courses aren't limited to the above – search our full range of courses to find those of interest. All our free online courses have been specifically curated and optimised so that you can get the full benefits of an online learning experience.

Using our free online learning platform, you can realise your career ambition and reach your maximum potential. Working in partnership with Go1 we are offering a series of online courses that will provide you with the tools needed for sustained success. With courses relevant for all career stages, from beginner to advanced, we can support your continuous training and upskilling throughout your entire career journey.

Hays Learning is an innovative E-learning platform that is efficient, effective, and best of all – free. Upskilling has traditionally been time consuming and expensive. Bearing in mind the needs of career-driven individuals, we are frequently adding more free online courses to make sure you always have in-demand skills for a successful future.
---
Hays Learning: How can I benefit?
Completing a series of online short courses will have a positive impact on your job security, earnings capacity, job satisfaction, and career progression. Hays Learning provides you with:
Free access: Hays Learning and the courses available on our E-learning platform are completely free. Start developing your soft, technical and digital skills today.
Superior learning experience: We understand the complex learning needs of today and the skills employers value most. Our online courses vary in skill level from beginner to advanced. This means that you can tailor your online learning depending on the stage of your career or the skills you wish to enhance.
Flexibility: Learn online at your own pace, at any time and any place, without the unnecessary pressure of deadlines. Whether you have 10 minutes or 10 hours to dedicate to your upskilling this week, our flexible platform lets you dive in and out of your learning as time permits.
Skills recognition: Showcase your new skills instantly by adding them to your CV and social profiles. Employers should be made aware of your skillset and the ways that you can contribute to the success of their organisations.
---
Why Hays Learning? Skills development is essential for career success
Hays Learning offers free online courses that focus on critical skills development areas including soft skills, technical skills, and digital skills.
Soft skills are made up of personal attributes, behaviours and traits that are paramount to getting along and working successfully with others. They are universally required for every job in every industry and include skills relating to communication, teamwork, problem solving, adaptability, critical thinking and time management, among others. With our free online training, you can develop your soft skills then apply them effectively in any workplace environment.

With your soft skills foundation in place, it's now time to enhance your hard or technical skills. Technical skills are abilities needed to perform job-specific tasks and will vary depending on your industry and role. Technical skills include specific capabilities and knowledge of concepts and processes required to complete your job responsibilities. Like soft skills, hard skills development can be achieved through learning and improved through practice.

The tectonic shift in the workplace caused by continuous and rapid technological change has seen employers place a greater emphasis on digital skills. Constant upskilling is required to ensure the competent use of digital devices, platforms, and applications relevant to your job and industry.

To equip yourself for long-term career success, you need to focus your learning and development on all three of these skills areas. Our free online classes will allow you to acquire and improve all these skills so that you always enjoy a competitive advantage.