HAYS AND MANCHESTER CITY Main region - behind every goal
Behind Every Goal

This four-part series is part of Hays' "Behind Every Goal" campaign, which looks at the goals that people work towards every day in their careers and the devotion it takes to reach them.
Behind Every Goal video 4
Hays and Manchester City main promo box
The 2021 Hays Asia Salary Guide explores the incredible impact the events of 2020 have had on employers and professionals' plans for the year ahead.
Find out if you are earning the salary you deserve in Singapore with the Hays salary checker.
Kirsty Hulston, Regional Director of Hays Singapore shares her top five tips to jobseekers in Singapore looking to land a new role in the year of the Ox.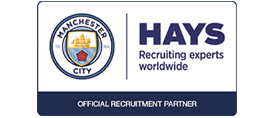 Hays and MCFC
Hays has been a proud sponsor of Manchester City since 2013, expanding the partnership to include their women's team in 2017.